Video conferencing is the easiest way to get information from someone who isn't immediately available in person. Whether it's a deposition in Phoenix, Scottsdale, and Maricopa County, AZ for a witness currently located in another state or just collaboration with a colleague who's traveling, Bartelt | Nix Reporting, LLC provides instant video conferencing.
Not only do we have the ability to coordinate video sessions, we're also on-hand to provide all of the complementary services you need to make the most of your conference. This can include note-taking, transcription and real-time deposition markups. Our expert knowledge of conferencing technologies and equipment also means your exchange will never be interrupted by technical difficulties.
Conference Rooms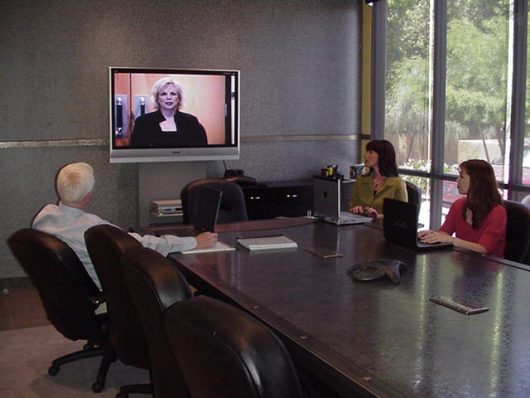 Need a private place to hold a video conference? We supply our clients with conference rooms on demand, giving you the privacy and accommodations needed to host a productive video meeting. Our conference rooms are conveniently located in our Tucson and Phoenix area offices and are available upon request as availability permits.
All of our conference rooms are completely furnished with everything you need to get your meeting underway. We have all video conferencing equipment ready to go, so all you need to do is get down to work. We'll make sure there are no interruptions and that you're able to conduct your meeting without any setbacks.
Remote Video Depositions
Securing a deposition from someone who isn't in the same room can be a difficult task, but not an impossible one. Further, when you rely on Bartelt | Nix Reporting, LLC for depositions in Phoenix, AZ, we'll make sure there's no question of accuracy. Our experience with remote video depositions is one we're proud of and it's a service we frequently bring to the aid of legal professionals.
Using only the best in transcription software like LiveNote, we'll make sure every single word of your remote deposition is properly accounted for, and that everything is organized and arranged in the best possible manner. Contact us for conferencing, court reporting, legal depositions, transcription services, and much more!