October 10, 2023 5:21 pm
Leave your thoughts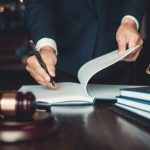 Finding a reliable court reporting firm is crucial for attorneys, law firms, and other legal professionals who require accurate and timely transcripts of legal proceedings. With the multitude of court reporting firms available, it can be challenging to identify the right one that best suits your needs. In this article, we will discuss the key factors to consider when selecting a court reporting service to ensure you choose a firm that meets your requirements.
1. Experience in the Industry
One of the first things to look for in a court reporting firm is their experience in the industry. An established firm with years of experience is likely to have a proven track record of providing high-quality services. By choosing a firm with extensive experience, you can have confidence in their ability to handle complex cases, understand legal terminology, and deliver accurate and reliable transcripts.
2. Certifications and Professional Accreditation
Certifications and professional accreditation are important indicators of a court reporting firm's credibility and expertise. Look for firms that employ court reporters who hold certifications from recognized organizations such as the National Court Reporters Association (NCRA). These certifications demonstrate that the reporters have met stringent standards and are committed to maintaining the highest level of professionalism and accuracy.
3. Wide Range of Services
When choosing a court reporting firm, consider the range of services they offer. A reliable firm should provide more than just transcription services. Look for additional offerings such as real-time reporting, video depositions, video conferencing, synchronized transcripts, and document repositories. A firm that offers a comprehensive suite of services can cater to all your needs, saving you time and the hassle of coordinating multiple service providers.
4. State-of-the-Art Technology
In today's digital age, it is essential to choose a court reporting firm that utilizes state-of-the-art technology. Look for firms that employ up-to-date court reporting software, video conferencing platforms, and transcription equipment. This ensures that you receive accurate, secure, and efficiently delivered transcripts in the format that best suits your needs.
5. Quality Control Measures
Accuracy and attention to detail are paramount in court reporting. Look for a firm that has robust quality control measures in place. This includes proofreading and editing transcripts for errors, ensuring proper formatting, and adhering to strict quality standards. A reliable court reporting firm understands the importance of delivering error-free transcripts and makes quality control a priority.
6. Client Testimonials and References
An effective way to gauge the reliability and performance of a court reporting firm is to review client testimonials and references. Testimonials provide insights into the firm's reputation, service quality, and customer satisfaction. Reach out to colleagues or peers in the legal community to obtain recommendations or ask the court reporting firm for references from previous clients. This first-hand feedback can give you confidence in your decision.
7. Responsive and Reliable Customer Service
Responsive and reliable customer service is a key factor to consider when selecting a court reporting firm. Ensure that the firm you choose is known for their prompt communication, attentiveness, and professionalism. A reliable firm should be readily available to address any questions or concerns you may have and should prioritize your needs and timelines.
8. Confidentiality and Security Measures
Confidentiality is of utmost importance in the legal profession. When selecting a court reporting firm, inquire about the steps they take to ensure data security and client confidentiality. Look for firms that utilize secure servers for file storage and have strict policies in place to protect client information.
Conclusion
Selecting a reliable court reporting firm is vital to ensure accurate and timely transcripts of legal proceedings. When making your decision, consider factors such as experience, certifications, range of services, state-of-the-art technology, quality control measures, client testimonials, customer service, and confidentiality and security measures. By taking these factors into account, you can choose a court reporting firm that meets your specific requirements and facilitates your legal processes effectively.
Working With Bartelt | Nix Reporting, LLC
Bartelt | Nix Reporting, LLC is the oldest court reporting firm in Phoenix, Arizona. Our experience in the industry has earned us a reputation to be proud of, and we have an experienced team who is dedicated to our clientele. Serving the entirety of Arizona, and even having clients nationwide, we are able to help every case that comes our way. We offer many different services including court reporting, video conferencing, videography, and virtual depositions. We are here to record testimony and other legal proceedings in the most thorough and precise way possible. You can count on our trained and experienced legal court reporters to take care of the legal details of your case. Contact us today to learn more about what we can do for you.
Categorised in: Court Reporting
This post was written by admin